A Million Dollar View from the Beach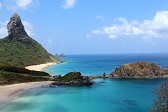 If you are looking for a special place to holiday, and are very much into relaxing by the beach, scuba diving and surfing, then THE place for you to visit is Fernando de Noronha, of the coast of Brazil. It's actually a special administrative region of Brazil, covering 21 tropical islands. The sights and sites are more than abundant enough to take up your whole vacation; and there are things to do for the whole family.
Getting to Fernando de Noronha is from Recife, in north eastern Brazil, typically after a connection in Sao Paulo. Flying is the quickest option, but there are also cruises available that go to the island. But at 350 km offshore, the trip is rather long. Around-the-world cruises will also stop at the islands, but their short stay doesn't give you a chance to explore them fully.
Most of the attractions are available on the main island which has the same name. There is a town called Villa dos Remedios, which has most of the basic services you need. The archipelago is not a place to go for your luxury vacation; it's a place to get in touch with nature and enjoy the local hospitality. The best option for accommodation is one of the several bed and breakfasts that are in the main town.
The locals are particularly friendly, and while they all speak Portuguese, a good deal speak enough English to help you out on hiking trips. But the main island is only 10km by 3km, so not only is it hard to get lost, but everything is almost within walking distance.
The islands themselves have a rich history, with old pirate forts and even an abandoned, disused prison. However, the major attraction has to be the over twenty coves with spectacular secluded beaches. The water is warm and tropical, and is exceptionally pristine, allowing views of up to 50m underwater.
Equipment hire for any of your more adventurous activities, such as scuba and surfing is available in the town. However, due to the small size of the place, and conservation restrictions, it's a good idea to book tickets to and accommodation well in advance. Not that the place is swamped with tourists: after all, the whole point is to get away from it all and relax on the beach. Or brave the rockeries and snorkel among the exotic fishes. The fishes are also available at several restaurants in the main town, though cooked.