Bolivia at a Glance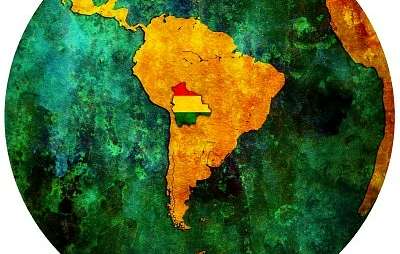 Bolivia is fairly well-known outside of the continent, in comparison to other countries, but it's PR department seems to have been slacking off on the job. The latest Bond film, for example, featured an impoverished country under threat of a military dictatorship. This is not exactly fair to the rich culture and heritage that includes one of the largest empires in the world.
Before the arrival of the Spanish, Bolivia was ruled by the Incas, and a lot of their history is still scattered across the land. For example, most people associate Copacabana with a beach in Brazil, but it's originally an ancient town on Lake Titicaca, right on the border of Perú. The town is wonderfully preserved, with its temples to the sun and moon a short boat ride away. If you are coming from Perú, it's the first town you will encounter, and it's definitely worth scheduling a couple of days to visit.
Bolivia also has the highest capital in the world, La Paz, with one of the highest runways of any international airport. Locals combat the effects of the high altitude (over two miles above sea level) with coca leaves, either by chewing them or preparing them in a tea. The Natural History Museum in La Paz has some of the finest examples of pre-Colombian workmanship in the world.
Outside the capital is the vast extensive Altiplano, a flat expanse of tundra bound by two arms of the Andes. Most of the western part of the country is made up of the Altiplano, before falling down to the Amazon rainforest to the northeast. The Altiplano is known for the salt-flats, and wonderful landscape. The town of Uyuni in the southern part of Bolivia is near where Butch Cassidy and the Sundance Kid met their end.
Bolivia divides its capital with Sucre, the second largest city located on the way to the Argentine Border. Sucre is mostly a mining town with some spectacular colonial buildings. Going around to the east and in the middle of the Amazon is Santa Cruz, a relatively wealthy city with plenty of history of its own. On the way, check out the increasingly well-known Route of Death.
Bolivia has a lot of curiosities which make it worth more than just one visit, but also afford some peculiarities for travelers. While its crime rate is relatively low and it's safe to travel there, reading up about Bolivia before visiting is highly advisable. Beyond the capitals, the country is more Quechua and Aymara than European.