Caribbean Beaches on the Amazon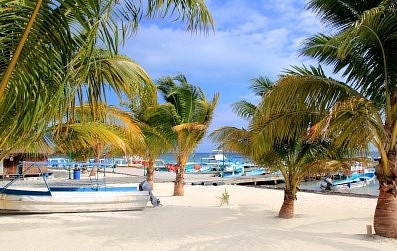 What if you could combine two of South America's major attractions into one tropical paradise? Then you'd be in Alter do Chão, a small village in the state of Pará, in the northern part of Brazil. Located on the Tapajós river, just a few miles upstream from where it merges with the Amazon, it has access to some of the most beautiful and secluded beaches on the continent. The weather is mild and tropical the year round, making it a good destination for the whole year (though between April and December, the river rises and the beaches are significantly smaller).
Alter has remained largely unknown to the international traveler, being a favorite spot among locals. As you might think for such a pristine spot, access is still difficult, and most people arrive there by boat. Now that traveling the Amazon River is becoming more popular among tourists, spots like this are becoming increasingly visited, and access has improved.
Still, if you are intent on a vacation and not a boat ride, you can access the village by one of the only roads in the Pará state from Santerem. Santerem is on the confluence of the Tapajós and Amazon rivers, and itself is accessible from the state capital of Belém by bus or by boat. A popular travel circuit is from Belém to Manaus, stopping at the Amazon villages along the way, which include Alter. There are a lot of interesting activities in Belém itself, and it's served by an International airport, making access quite easy.
Now, just because it's small, it doesn't mean that Alter doesn't have a good variety of accommodation and places to eat. The best places, naturally, are along the waterfront. There is a boardwalk to spend the evenings. You can also get tours to the Tapajó National Forest, a park that remains largely untouched, though there are visitor areas and great trekking opportunities.
For the beach, it's a short canoe ride across the river to the sand bank that separates the Lago Verde. The attractions of the beach are the clear green waters flowing by lazily over the white sands. You'll be forgiven for thinking that you are in the Caribbean. During the season, there is an ample collection of open-air bars along the beach, which sell all manner of refreshment.
By itself Alter do Chão probably doesn't offer enough to cover an entire vacation (unless you plan to spend the whole time sitting on the beach), but the surrounding area certainly does. Especially if you can catch the Círo de Nazaré carnival in October.