Chile at a Glance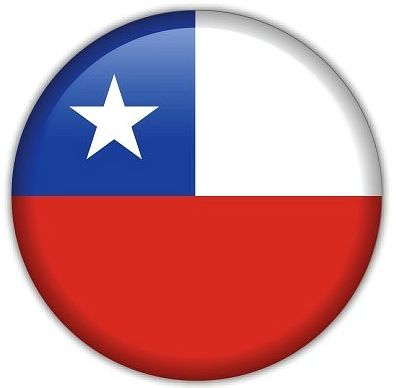 Chile is the smaller twin-brother to Argentina (but don't tell that to an Argentine). It runs along the west side of the Andes, mostly bordering Argentina, and is just as geographically diverse though it is even longer. Surrounded either by mountains or the Ocean, Chile has developed a unique biosphere that its government guards jealously. Seriously, don't try to bring fresh fruit, meat or vegetables into the country; you will get into trouble at the border.
Chile is also the most developed country on the continent, and is growing to be South America's financial center. Parts of its capital, Santiago, are reminiscent of Paris or London; with modern sky-scrapers sprouting up from old colonial buildings. In fact, the tallest building on the continent is still under construction in Providencia, a borough of Santiago.
The modernity, however, doesn't overshadow the natural beauty of the country. The north is well into the tropics, with balmy weather all year and long Pacific beaches. Rainfall is almost non-existent, which leads to the driest desert in the world, Atacama, just a few miles from the coast. The landscape is broken up by towering volcanoes, salt flats and geysers. Chile is on the Ring of Fire, which has the largest concentration of volcanoes and geologic activity in the world. Earthquakes are common and minor tremors are frequent; but that also leads to spectacular sunsets, awe-inspiring mountains and wonderful hotsprings.
The central region is warm and sunny most of the year, and because it's the southern hemisphere, that corresponds to winter in Europe and the US. Travelers like to send Holiday pictures from the pool or on the beach. The largest firework display for new years is along the Valparaíso and Viña del Mar coasts, with each city competing to out-do the other with their shows. Local sparkling white wine is abundant, and Chile is famous for the impressive quality of its wines.
Farther south is the unique Valdivian rainforest, which is made up of some of the oldest trees in the world. The area was populated by German settlers in the latter half of the 19th century, who installed breweries, sausage factories and pastries that rival their European counterparts. Beyond that are the glacier carved fjords that lead down to Tierra del Fuego and the Straits of Magellan.
Chile is a good place to start or base your travels through South America from. It is the safest country, and has good connections with the rest of the continent. These advantages, however, are off-set by being rather pricier, but still significantly less than Europe or North America.