Down the Amazon River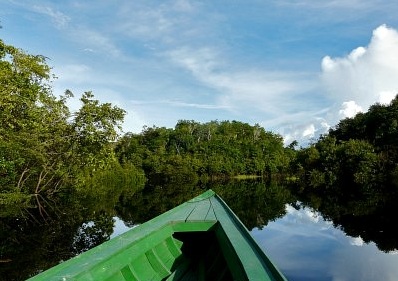 The Amazon rainforest really needs no introduction. Hundreds of thousands of tourists each year go to visit. It has the title of biggest in a lot of things: biggest river, biggest rainforest, biggest wildlife diversity, and biggest piranhas. (Though that's not a high bar, since all piranhas are in the Amazon). It's also home to some of the very few remaining areas in the world which have been untouched by human intervention.
A somewhat unique way to see the Amazon is from the river itself. There are lots of resorts and tourist traps along the river, especially near the out-flow. But if you are particularly hardy, you could consider the trip down from the very beginning of the river in Perú, all the way down to the mouth, and visit places that you can't access on foot, let alone by car.
There is a variety of options, from speedboats to large ships that practically drift with the river's flow. The excursions offer some pretty spectacular sights, and stop along the way so you can hike into the nearby forest to visit even more places.
The journey starts in the hinterlands of Perú where the Amazon officially starts. You go through practically untouched rainforest, stopping at river-side indigenous villages along the way. One of them features floating islands where the natives have built their houses. Among the wildlife you can see are macaws and parrots flying over the ship, howler monkeys on the shores, pink dolphins cavorting near the boat, and if you are especially adventurous, you can fish for piranha in the river itself.
Depending on the trip, they can last between three days (two nights) up to eight days (and seven nights). Some of the expeditions offer berths on the ship, so you can actually sleep on the river, while other stop along the way to find lodging in the native villages. Some offer visits to lagoons to go swimming and canoeing along the sides of the river. The guides are very professional, and are almost all naturalists with encyclopedic knowledge of the area. All the tours have English speaking guides, and other languages are available.
To arrange tours, you can probably find bookings online. But most start from Iquitos in Perú, and it might be a good option to visit the area first. Some of the tour operators don't have websites, or offer online booking (after all, this is a really remote area of the world). One note of caution, though: bring lots of mosquito repellant.