Iguazú Falls, Argentina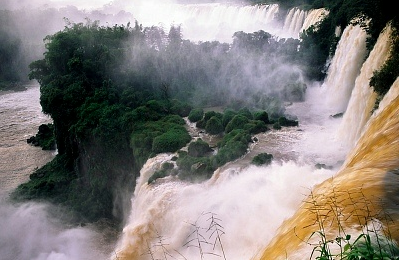 For getting up close and personal to the falls, the Argentine side is a lot better. There are two routes: the paseo superior and the paseo inferior. They both are a series of trails, bridges and catwalks that give you spectacular views of the falls. The paseo superior goes over the top, while the inferior climbs down to the base of the falls, so you can get a good view looking up.
Another advantage to the Argentine side are the two free boat tours that will get you close to the falls as well. It seems the locals will do anything to get you wet.
If you can schedule your trip properly, on nights with a full moon, the park rangers from the National park that surrounds the falls will do free night-time, moonlit tours of the falls. If the falls are impressive by day, they are much more so at night; you can't miss out on this romantic outing.
Puerto Iguazu is a relatively small city (or town, even), with only a tenth of the population of the city on the Brazilian side. This makes it a lot more quaint and picturesque, while Foz is mostly an industrial town that burgeoned out of trade and industry.
There is a variety of accommodation for different budgets. Evidently those with views of the falls from their balconies command a higher price. For example, the International Sheraton which is located in the Iguazú National Park.
The falls are located in a subtropical area, which means that it's hot and humid most of the year, though not as hot as places closer to the equator. You can get by in a hotel room with just a fan, if you are hardy. The downside are the mosquitoes, which are ubiquitous in the summer months.
The best times to view the falls are typically early in the morning or later evening. This is to avoid the rush of tourists who typically visit around midday. The best option is to start out early and be near the observation platform (either on the Brazilian or Argentine side) around lunch time. There are a couple of restaurants with really good local fare at good prices.
It's also possible to arrange tours of the falls, and they are relatively cheap. Compare the bus ride from town to the falls (around US$15) with the price of the tour (about US$20). However, if you are the adventurous type and speak either Spanish or Portuguese, then there is plenty of transportation around the falls and local attractions.