Iguazú Falls, Brazil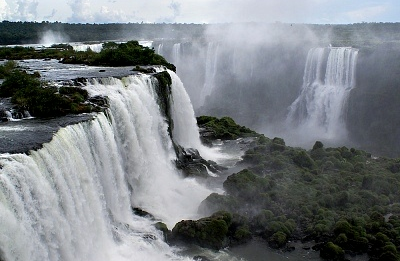 One of the things that you can't miss when traveling in South America are the Iguazú Falls. They are called Cataratas de Iguazú or Foz do Iguaçu depending on which side you are standing on, because they are exactly on the border between Argentina and Brazil. Seeing the falls from both sides is definitely worth the trip, and each side has its own advantages.
Often the falls have been called "The Niagra of South America", but the comparison doesn't do justice to Iguazú. They are created by a basaltic break along the Chaco plain, and the waters pour over an ancient lava flow. The size of the river from which they derive their name, makes the falls over 2Km (one and a half miles) long, and reaching up to 80ft deep in places. Set in a tropical rainforest, the wildlife is unmatched, with exotic birds flitting through the rainbows thrown up by the water spray.
Most guidebooks and people who have visited recommend staying for several days in order to really appreciate the falls and take in all the attractions that surround the area. They are also located near the three point border where the Iguazu flows into the Paraná river and separates Argentina, Brazil and Paraguay. There are three major cities a stone's throw from each other: Puerto Iguazú in Argentina, Foz do Iguaçu in Brazil, and Punta del Este in Paraguay. It's easy to base yourself in one and take day trips to visit the others, and save on getting expensive visas.
Access to the Falls is pretty easy, since all the cities are connected by bus to their respective capitals, and they all have international airports. You can book flights from most destinations either through Sao Paulo to Foz or Buenos Aires to Puerto Iguazu. However, given the exchange rates, it's usually better to stay on the Argentine side (which is also woodier and therefore cooler), and daytrip across to Brazil.
Just 15 km to the north of Foz is the Itaipú dam on the Paraná river, which until the opening of the Three Gorges in China, was the largest dam in the world. It's also worth a visit.
The Brazilian side has the special attraction of a 5-story look-out tower over the falls, which gives you the best view. There are several paths that lead up to the base of the falls, and a cable car that goes to the top of the viewing platform