Paraguay at a Glance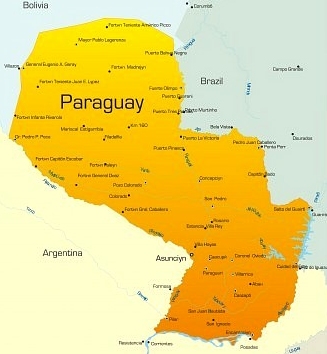 Sandwiched between Argentina, Brazil and Bolivia, Paraguay could often go unnoticed if it weren't for one very large and spectacular thing: The Iguazú Falls, or Foz do Iguaçu in Portuguese. Comparing them to the Niagra falls is to fall sort on the description; they are much bigger and spectacular than that.
But gushing about the falls aside, Paraguay has plenty of interesting places and activities that make it worth a visit. By South American standards, it's a relative small country –barely the size of Germany- which is located predominantly in an arm of the Amazon basin called the Chaco valley.
Virtually the entire north half of the country is covered in rainforest which as remained virtually untouched and developed. This provides wonderful wild-life watching opportunities, and Paraguay has a number of unique birds. Most of the country is flat, with only a few hills separating the Chaco from the Plata basin to the south. A good portion of the border is the Rio de la Plata, which goes over the Iguazú Falls and then on to the Atlantic.
Paraguay is located in the tropics, and the weather remains and almost constant balmy 25-30°C (80-90°F), day, night, winter, summer. The only change is during the June-July there is increased rain.
The southern half of the country is remarkably similar to the Argentine pampas, and is just as fertile with wandering cattle herds and sprawling farms. Until recently Paraguay was in the hands of a military dictatorship, and a lot of travel was restricted. As a result, a lot of the natural beauty that Paraguay has to offer, and its culture have remained relatively isolated and undisturbed.
The lack of development in the country makes travel slightly more difficult, but it is a wonderful opportunity to see what live in South America was like before modernization. Paraguay is the closest resemblance to the archetypical South America people have come to expect from popular culture.
Paraguay is interesting to visit, with really welcoming and friendly people. It's easy to fall in love with the place. But for traveling and visiting as a tourist, it's best to stop by on a trip that includes other countries. Especially when it's surrounded by places like Brazil and Argentina which are chock-full of attractions and things to see. Paraguay is basically a good place to rest up from the road, and plan where to visit next.