The Caribbean and the Spanish Main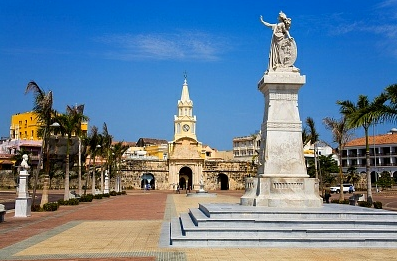 Who hasn't heard of the romantic tales surrounding the Spanish Main? And the Pirates that plied the waters of the Caribbean, swashbuckling and riding the high seas? Of course part of the mysticism of pirate lore is that the Caribbean is a tropical paradise. Sparkling crystal water of soft white sands, warm tranquil weather and nature just a few steps away. Who wouldn't be entranced?
The Caribbean as a geographical area is part of the Americas, and is equally shared by Central and South America. Many of the islands featured in Pirate tales are, in fact, off the coast of Colombia, Venezuela and the Guyanas. They used to make up part of what was called "The Spanish Main." This was the continental mainland that was colonized by Spain during the latter half of the last millennium. It ran roughly from Florida, breaking to the coast of Mexico and there around the Gulf until coming against the Guyanas.
The Spanish possessions in the northern part of South America were called New Granada, and were subject to a Viceroyalty. The seat of power was originally in Bogotá, today the capital of Colombia. However, reforms under Philip V lead to the Viceroyalty being moved to the coastal city of Cartagena (de Indias, to distinguish it from the Cartagena in Spain).
Cartagena has managed to appear in a lot of popular culture because of its Caribbean presence, and being one of the largest cities and tourist destinations in Colombia. As a cultural center, and haven of the arts, Cartagena has also managed to escape a lot of the ill effects of the drug trade. Cartagena was featured in a well-known romantic film, Romancing the Stone, starring Michael Douglas. Throughout the film, he mispronounces the name as "Cartagenya", leading to a wide-spread misconception about the proper name of the city.
To the East and still in the Caribbean there are several other fascinating places that are more culturally diverse alternatives to Caribbean island vacations. This includes the infamous Barranquilla, and further away, Puerto Bolívar. Crossing into Venezuela Maracaibo and Caracas are the most known cities on the coast. However, there is also the city of Coro, which is only a few miles away from famous Caribbean destinations Aruba and Curaçao, part of the Netherland Antilles. If you want to explore by yourself and not have to worry about learning a new language, you can always try Guyana, the only English-speaking country on the continent. It's not as famous, but that means its beaches are not overflowing with tourists, and it remains a lot more authentic.