The Non-Sacred Inca Trail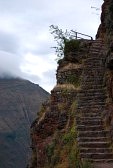 There's more than enough to see in the Sacred Valley without hoofing it over the mountains and braving the sandflies of the Inca Trail. The Urubamba valley has a plethora of ancient ruins, sacred sites, wonderful wildlife and spectacular views. There is reliable, easy to find transportation around the area, and it's great for leisurely exploring the Inca way of life. And you still end up enjoying Machu Picchu, rested and ready to explore.
A secret that no tour operator will tell you about exploring the Urubamba valley is that it's best not to go with an organized tour. While a guide will be able to tell you about the places you are visiting, most tours go too fast, and it's hard to really get a feel for the place. For example, the first place you come across after leaving Cusco is Pisaq, just 30km away. It has some fascinating Inca ruins which teeter on the hillside above the town. Walking up to them from the center of the town takes about an hour, but it's well worth it for the views. The ruins themselves are separated in three different areas: agricultural, ceremonial and military. There are some superb examples of Inca masonry in the temples, and there is an alternative walk back around the terraced fields that allows you to visit the tombs of Inca royalty. All told, it's good to set aside a whole day to explore the place leisurely. By comparison, a tour will go through the town in less than two hours, and miss out on a lot of attractions. Also, traveling independently allows you to get to places before the tour crowds arrive.
Farther down the valley you come to Urubamba, the town. It's a good place to base exploration of several near-by attractions, such as Chinchero, Moray and Maras. The last one has some spectacular ancient ruins of three enormous terraced amphitheaters. It's very atmospheric and claimed to have mystical properties, especially around dusk after an hour's walk from Urubamba.
The next is Ollantaytambo, the ancient Inca city where they put up their last stand. It's in better repair than other sites, and worth a visit. This is before getting to Aguas Calientes, the town at the foot of Machu Picchu.
An alternative to the Inca Trail is the Camino Real del Inca (Royal Inca Road). It gives you access to Chachabamba, and from there you climb three hours to the actual Inca Trail at Wiñay-Waina. There is a youth hostel, from whence there is about an hour's descent to Intipunko, the entrance to Machu Picchu.