The Sacred City of Machu Picchu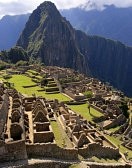 The postcard of the Andes and South America is the famous and fascinating ancient Inca city of Machu Picchu. It remained "lost" until 1911 when it was rediscovered in the jungle by Hiram Bingham. As such, it escaped the Spanish purge and remains the best preserved Inca city uncovered to date.
Getting there: Taking the Inca Trail is probably the most rewarding option; however that's not always possible. The other way is to take the train from the San Pedro station in Cusco. This option offers spectacular views of the Urubamba valley as it slowly winds its way down to Aguas Calientes, a small town at the base of Machu Picchu named after the hotsprings a brief walk from the town. Alternatively you can take the bus from Cusco, or stop along the way to enjoy the sights and sites of the Urubamba Valley. From Aguas Calientes you can either walk up the steep stair, or take the bus that will leave you at new entrance.
The "new" entrance is where most visitors access it today, but originally the Inca would arrive through the Intipunko high above. However, this access gate puts you right in the complex, starting with the extensive terracing were the city's crops were grown. (In other words, it's what the Inca would consider the "service entrance.") A few minutes walking and up to your left, you will come across what's called the Watchman's Hut, from where all the perfect views of the city that go on postcards are taken. You must take your picture there, too; or people won't believe you were in Machu Picchu.
The city is then laid out before you and you can decide where to explore first. Be careful, however, that there is plenty to the city, and it can easily take several days to explore. To the left on top of their own hills you have the Principal Temples and the Temple of the Three Windows. Most of the constructions were are temples or houses to support the people who worked at them.
Across the city is Huayna Picchu, a large promontory with ruins of its own. To get to the ruins and scale the peak requires going up either of two very dangerous and often slippery trails. If you are good at climbing –and this can't be stressed enough- NOT afraid of heights, Huayna Picchu has quite a few spectacular sites. If you'd rather not slip down the side of the mountain, you can still look across the divide down either side of the mountain, and admire the view.
Budget at least two days for Machu Picchu; it's well worth it.