The Sacred Trail of the Inca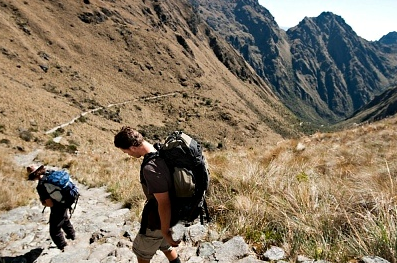 Cusco is the starting place for all your Inca adventures. It's also where you start your journey on the famous Inca Trail, which is the original highway from the capital to one of their most sacred cities. The original purpose of the trail was more about pilgrimage and devotion to the ancient Gods. While a good deal of it has been torn down by the Spaniards and the elements, a lot of the attractions are still there. It's not just about the ruins, but communion with nature, like the original builders had intended, and walking the footsteps of the natives.
While the trail connects Cusco to Machu Picchu, it's not the only way to get there. There are other connections, such as by rail and by bus. Also, there are unofficial, alternate trails which are not as tourist-filled and still connected with the ancient Inca.
The Inca Trail is not for the faint of heart: it's basically four days and three nights of trekking through the wilderness, and climbing up and over mountain passes over 4,200m (12,000ft) above sea level. The trail is as much as possible as it was like when the Inca themselves traveled the same route, so don't expect restaurants or even cots along the way. You have to bring your own sleeping bag and tent.
All the walking and the sore feet afterward are well worth it, however, since the trail goes through some of the most spectacular views in all of Perú, and it goes through ancient ruins that can only be visited along the way. The trail goes through three valleys, with a steep climb up and a treacherous decent down from the passes that separate them. But from the tops of these passes you have spectacular views of Pumasillo and Salkantay. The Trail ends at Intipunku, the Sun Gate which is the original entrance, and overlooks, Machu Picchu. Travelers say the view from that spot alone is worth the walk.
The Inca Trail is very popular among tourists, and the Peruvian government is putting a lot of restrictions on travelers in order to preserve the area. It's only possible to take the trip with a licensed tour operator out of Cusco, and they are often booked well in advance, due to restrictions on the number of people allowed on the trail. The cost of the tour starts at around US$600, without including entrance fees. However, most tour operators have equipment, lunch and guides. Most tour operators in Cusco have websites where you can inquire about reservations and costs.