The Sacred Valley of the Inca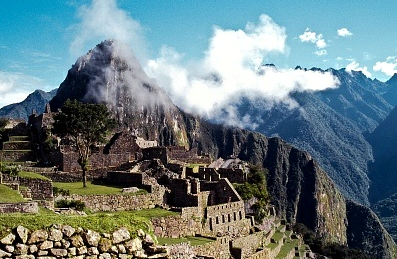 The center of tourism for Perú is located south east of the capital in the middle of the Andes. This is where the mountain range is at its widest point, sloping down one the one side to the deserted beaches along the Pacific coast, and cutting through cragged ridges into the Amazon on the other. It sets the scene for some of the most spectacular views in the world, with tall mountains and glaciers running down to hidden lakes, rivers tumbling through deep green gorges, cascading over waterfalls into deep pools, swaying fronds from all sorts of trees and shrubs teeming with exotic birds and animals. No wonder this is where the Inca chose to locate their capital of their vast empire, Tawantinsuyu.
The Inca literally carved their livelihood out of the tops of the mountains, building vast cities at the very summits, and developing complex growing and irrigation systems in terraces down the steep sides. The ingenuity of the people continues to amaze to this day, and a lot of their history still is shrouded in the mysteries of the cloudforests and jungle. While a good deal of the Empire was subsequently destroyed by the Spaniards and their evangelization programs, a lot of it still remains and can be admired by visitors from around the world.
The Urubamba valley starts near the city of Cusco, which is where the first Inca Manco Capac built his capital, and from there his descendants ruled the mountains and valleys from Chile to Colombia, and from the Pacific to the Amazon. The valley is chock-full of ancient treasures and sacred sites which still stand to this day, and thus it's unofficial name. There is enough to see here that you can pretty much schedule a whole vacation exploring the valleys, ruins and trails –and leave a few days at the end to rest up on one of the Pacific beaches in Lima before catching the flight home.
There are over 10 must-see attractions in Cusco alone, including immense ceremonial sites like Sacsayhuaman, which is just a few minutes out of town. But that shouldn't distract you from other important attractions, which are further down the valley, such as ruins along the world-famous Inca trail, and the ancient cities of Pisac and Ollantaytambo (where the Inca put up their last defense against the Spaniards). However, that's all eclipsed by the jewel of the valley: Machu Picchu, the postcard of Perú, and the best conserved Inca city yet discovered.