Venice of the South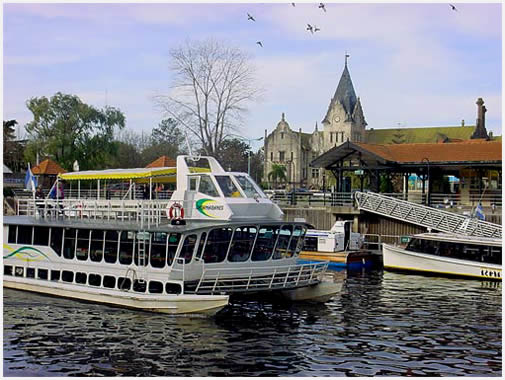 An entire city with waterways for streets is fairly unique; you have to give the Venetians credit for that. However, there are numerous other locations and neighborhoods that are connected only by boats, and a lot of them are surrounded by fascinating views and wildlife. One of those is a on the Paraná Delta, in north east Argentina on the border with Uruguay.
Just 50min by train from Argentina's capital, it's could still be considered a suburb of the capital. The positive thing is that it's so close that it's definitely easy to include in a couple week South America vacation. It's still off the radar of most foreign tour routes, and is a favorite retreat for the local Bonairenses.
There are several ways to get there, including two train lines and buses. But the most scenic is the Tren de la Costa, which leaves from the Olivos railway station on the Mitre line in Buenos Aires. The train makes five stops in picturesque areas, and you can get off and explore quite easily.
At the end of the line, the train stops just shy of the centre of Tigre. From there it's a ten minute walk through the Mercado de las Frutas, and to the riverfront. You can hail the boats there like you would a bus or a taxi, and they will take you through the myriad of wooded and inhabited islands that populate the area.
The experience is a glimpse into how life on the delta works with just boats for transportation. There are several very economical hostels and hotels on the different islands to stay at. Another interesting activity is visiting the Tres Bocas neighborhood, where you can follow paths and bridges over the canals through houses and colonial mansions. There are several cafes, some indoors and some outdoors, to take a break at and take in the scenery. You can also look across the vast Rio de la Plata to the Uruguayan coast and the historic Isla Martín García.
The island is only accessible by special tour leaving from Tigre, and offers spectacular views across the canal, and several historic buildings. Originally a fort built by the Spanish to defend from Portuguese smugglers and British privateers, it had a brief stint as a military base and prison. Former president and famous Argentine statesman Juan Domingo Perón was kept as a prisoner there.
In and around Tigre there are enough attractions to spend at least two or three days there.