Rediscover Rio.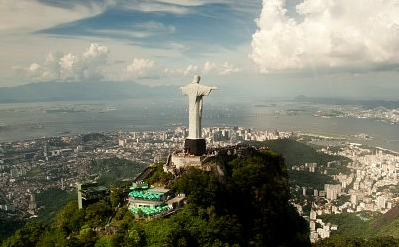 Rio de Janeiro is probably the most known destination in South America. One of the major cities in Brazil, it boasts a collection of attractions that would make any city jealous. Chief among them are Copacabana and Ipanema beaches, the lookout over the city know as "Christ the Redeemer" and Carnival. Some people have gotten to know the darker side of the city known as the "flavellas", thanks to a few recent movies.
Rio is big. Really big. It's the biggest city in South America, and that's saying something. That means that there is a lot more to do there than in any other city. A lot of the reasons for visiting Rio revolve around the nightlife and the beaches.
The city is situated between and around one of the thousands of picturesque bays that dot the eastern Brazilian coast. On the bay itself, and smack dab in the middle of the city are the two most picturesque beaches: Botafogo and Flamengo. Situated right under the Sugarloaf hill, Botafogo is the beach you see in most of the brochures and in popular culture representing Rio. Despite that, however, the beach is often too contaminated for swimming.
On the Ocean side of the city, the first beach you come to is Copacabana. It is not, however, the biggest, most popular or longest beach in Rio. It is, however, where most of the beach-front hotels are located, and there are kiosks along the street that sell anything imaginable. It's a good place for both shopping and beach-walking.
Just around the Punta do Arpoador is Ipanema beach, which is the biggest at over 3km long. There is no other beach like it, and realistically, a beach lover can't go to South America without visiting it. The northernmost tip –called Praia do Arpoador- is noted for its surfing and very popular among locals.
If large crowds of tourists is not your idea of a vacation, you can try out Praia Vermelha which is in Urca, at the very feet of the Sugarloaf. It's densely populated, but mostly by locals, and remains a secret in Rio. Of course, it's hard to get away from people in such a popular area, even if you try farther out beaches such as São Conrado, which is a paragliding landing spot. Yes, there's paragliding in Rio, too.
Finally, if you've got children in tow, you might want to check out the fun activities at Baixo Baby at the southern end of Ipanema. It's equipped by corporate sponsors with playground equipment and beach toys, and lots of local parents keeping their eyes on the children.