San Rafael Glacier, Chile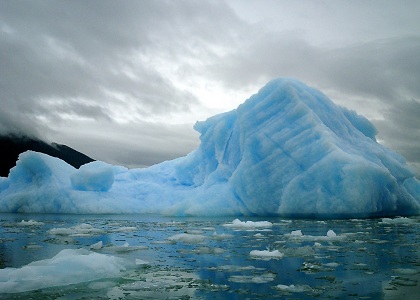 One of the most spectacular sights in South America is the glaciers of Patagonia, which trail down from majestic peaks through millennial forests into crystal clear lakes and fjords. Set in pristine and undisturbed countryside, they are picture perfect postcards to send home and evoke the jealousy of friends and family. The sapphire jewel among these is the San Rafael Glacier, located in the national park of the same name, some 200km south of Coyhaique in southern Chile.
San Rafael stands out because it's the lowest latitude glacier that ends in the sea, making the weather fairly pleasant for visiting. Also, its sapphire-colored ice has made it a feature of many documentaries and brochures. Its terminus in a quiet inlet at the end of a fjord has some of the most beautiful views of Patagonia, and while the area around it remains pristinely uninhabited, it's still fairly easy to get to.
There are several options, once you are in Chile. The fastest, and most expensive, is by small airplane from Coyhaique. The trip is little more than an hour over the Andes snow-capped peaks, and will give you about an hour to walk along the beach near the glacier.
The most popular route among locals and foreigners is by ship. They leave from Puerto Montt and stop in Puerto Chacabuco along the way, so you can get on in both ports. Puerto Chacabuco is about an hour's bus ride or car drive from Coyhaique. From there, there is also a catamaran that takes the same route. It's a lot faster, but you don't spend as much time at the glacier.
The spectacle of the glacier is only compared to the trip there: sailing down glacier-carved fjords and archipelagos topped with snow-capped peaks and clothes in impenetrable Valdivian rainforest. By catamaran, the trip is around three hours; and by the larger ships it's an overnight trip.
The ships will stay about six or seven hours in the deceptively named Laguna San Rafael, while the catamaran will stay around half that. They both offer small launches to go up to the glacier's face, or dock along the beach for a walk. A tradition of these trips is to take off a small piece of the icebergs floating in the sea, and garnish them with the local spirit, Pisco, for a one-of-a-kind cocktail.
The more adventurous can get off here, and go hiking through the National Park, most of which remains practically untouched by humans. Otherwise, it's a trip back through the fjords to Puerto Chacabuco. The route is so popular that in the summer you often have to book months in advance.
San Rafael Glacier is probably one of the most affected by global warming, and is receding. If you can, see this attraction before it literally melts away.