Shell Beach, Guyana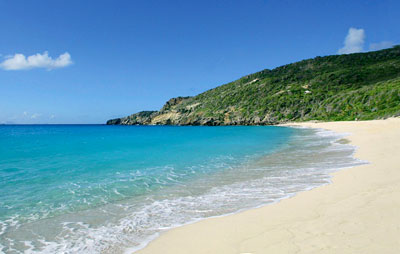 If you want to get away from the crowds that overcome most of the popular beaches in the Caribbean, then Guyana is definitely your place to go. The country boasts miles of Caribbean beaches, most of which remain uninhabited, and in their pristine natural state. A good example would be Shell Beach, which runs almost 150 km (nearly 100 miles) in the north west part of the country, near the border with Venezuela.
Shell Beach offers a combination with one of the other major Guyanian attraction: varied wildlife, many of which is endangered and can't be seen anywhere else. A surprising number of sea turtles and tortoises make Shell Beach their home, along with a varied assortment of parrots and macaws. By itself, the beach and surrounding areas form a unique ecosystem. A good deal of the coast is covered in mangrove forests which give way in the interior to native Savanah. The roots provide cover for a wonderful variety of fish, which attracted four endangered species of turtle, manatees and other sea and river animals. The beach is also crossed by several rivers along it's rout.
Like most places that remain undisturbed, it's still somewhat difficult to access. There are few if any settlements along the coast in this area, so accommodation is mostly camping. But camping on a tropical beach, with palm trees waving overhead miles from civilization really shouldn't count as a hardship. Just be prepared.
To get there, you have to start from Georgetown, the capital of Guyana. There are several companies that can arrange tours to the area, and visit some of the protected areas that are administered by conservation initiatives. This is the best way to see the wild life and the ecological diversity of the area.
But if you are looking to really get away from it all, there is minimal transportation service in the area. However, Guyanas are extremely friendly, and it's often easy to hitchhike to the more remote areas. Guyana is close to the equator, and this remains a tropical –and hot- area. Even there are cooling trade winds that come off the sea, it's good to remember to carry lots of water when hiking, either on the beach or the roads.
The Guyana government is keen to promote the area, and help secure funding for conservation projects in the area. They are most helpful if you are looking for information on visiting the area.