Surfing South America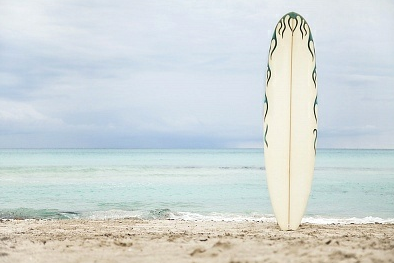 Some people see the soft white sand of a tropical beach, with its tranquil sea breeze and beckoning shade of a parasol … and then run off into the pounding surf to stand on aboard and mock the sharks. These people are surfers.
Traditionally Hawaii and the California coast have garnered most of the surfer's attention, but other places are starting get on the map that offer alternative experiences that are often more thrilling and challenging, depending on your vision of the sport. A lot of those are in South America.
This isn't strange, considering South America has the longest stretch of Pacific seaboard in the world. Because of the weather patterns and currents in the Pacific, its beaches have the best factors for making some really sweet waves along its shores.  Trade winds push the storms across the Ocean from West to East, making the swells pile up on the sharp South American seabed, which pushes them up to create some of the biggest waves in the world. During storms, it's not uncommon to have waves almost 10m (30ft) high crashing against the coast.
However, because of a trick of the weather, usually the bigger waves –and the ones better for surfing- are farther south where the temperature differences between the ocean and the land create winds of over 120kmh (80mph). Surfing in really cold water, and being blown over by wind is not ideal, either. It's a matter of finding the right combination of southerliness and wave size to get the best swells.
That place appears to be Pichilemu, which is fast becoming the place to visit if surfing in South America is on your mind. The town hosts an annual surfing competition which draws some of the best surfers in the world. Just two hours by bus from Santiago de Chile, it's really convenient to get to.
Now, if you are more of a recreational surfer, and aren't trying to measure yourself against the longest toughs possible, there are better options further north. Specifically the northern coast of Perú and along the coast of Equador north of Guayaquil. The Ecuadorian coast is dotted with little fishing villages that are fast adapting to the demand for surfing. And unlike Chilean waters, the Pacific at these latitudes is warm and inviting.
If you are one of those people who can't travel without dragging along the surf board, you should check out Puerto Cayo, a growing surfing spot for those who like tropical weather as well as sweet swells.